How does it Make You Feel?
I literally felt the sensation that could be equal to an orgasm when I found these: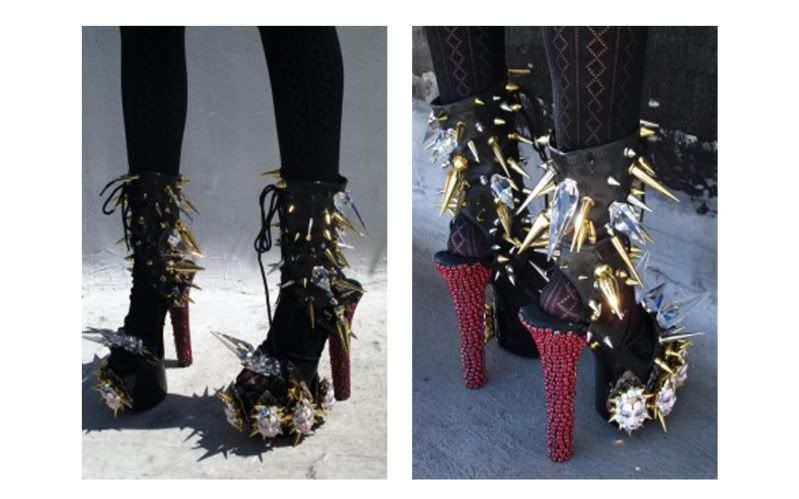 What a piece of....HEAVEN, really! My jaw dropped to the floor and I felt like someone just smacked me on the crotch, these shoes are insane! I wonder who/what the heck is
Gasoline Glamour
? I thought Alexander McQueen, Rodarte, Pierre Hardy, etc were crazy enough when it comes to haute couture shoes but I was bloody bloody wrong. These shoes just plain amazing and they cost $$$$ on
eBay
and I've never even heard it before?
Saved by Google, I found
their website
(not so high fashion site, dominated by punk/emo/gothic style on the index page) and saw loads of amazing shoes and accessories BUT in my very honest opinion, they're slightly overpriced. I mean, it's just effing scary to throw thousands dollars on shoes you can't try on nor even touch before you pay. But if I had that much money to blow, I wouldn't mind spending it for them even though I might not have the guts to wear them because heaven knows I wouldn't want to ruin it. It's such a masterpiece craftsmanship! Every details of the shoes are amazing. But still, to me $4000++ for a pair of shoes is just too much :))
I am sure Lady Gaga and mama Kate Lanphear will love these babies as much as I do. Do you guys love them or loathe them? Tell me what you think!
ps: if you have money grows on your head and you think you can afford it, go to
Gasoline Glamour website
or just
click here
to BIN on eBay. Their prices range from $2450 - $6500 on eBay (yes, they're as expensive as a super rare Chanel bag). Good luck and don't forget to faking show it to the world. :D